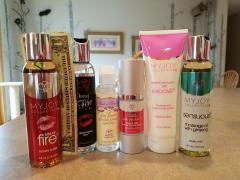 Taste Tester Set (cannot be added to party orders)
This set CANNOT be added to 'party orders' where a rep is coming on site for a presentation, it's intention is for 'self guided online order' collection where a rep is not dispatched. This deeply discounted ($84 in value for only $42) Taste Tester Set is available to you so you can let friends try the items so you can gather orders for a self guided online order. Three of the items are delicious flavored lubes, (That you just have to taste to know how yummy they are!). The Sensuous Oil smells like a SPA and is a great in-shower skin treatment, as well as makes any tattoos look brighter. The Shave Cream reduces razor burn and moisturizes, and the Slick & Smooth...well...your friends just need one drop on their fingers so feel how wonderful and long lasting it is, it's for when more than your sense of humor is dry, ha ha!
Now for the details...
These are all Best Sellers and having them deeply discounted ($84 in value for only $42) to have on hand for friends to sample is a great way to share how wonderful these items really are! Keep the ones you love for yourself and offer the others to friends who just sampled a drop and love a discounted item that they've sampled. You can gather orders for the other friends! Notice my shopping cart has an online deal that earns you $30 in free product of your choice when the product order total hits only $100.00. So combine a few friends orders together when you submit and earn some free product for yourself!